Dear Brothers and Sisters,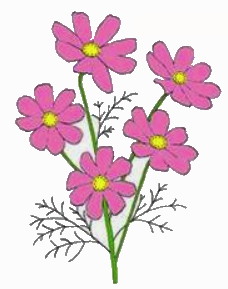 Conference Presidents, please share this monthly news with your members to keep everyone connected with what is happening at all levels of the Society. Particular and Central Council Presidents, please share this monthly news with your Vincentian members who may not belong to a Conference.
SPIRITUAL MATTERS
The
October spiritual reflection
invites us to reflect on what Jesus is saying to us as his disciples. Please reach out to
denise@ssvp.on.ca
if you have questions on spiritual resources.
Sharing a
spiritual reflection
from National Spirituality Committee.
ONRC FALL MEETING
Thank you to the 75 attendees who joined the virtual Zoom meeting on Sept. 26. For those who were not able to join, you can listen to the
recording
which includes the workshop on adapting to covid-19, and results of the voting on the revised by-laws which vote received 100% approval. You can also review the
slides
shared during the workshop presentations and a
summary
provided by one of the presenters.
In addition to the presentations, there was good discussion on donation ideas:
Brant PC has a Canada Helps donation link on their website; for more information on Canada Helps, go to canadahelps.org
Halton PC have regular donors built up over 10 years who donate monthly
Ottawa has dollar donations and has an on-line store as a pilot project
Donations through National website imakeanonlinedonation.org and select option to donate to a specific Conference/Council
Burlington Community Foundation shared funds; other communities could check with their community foundation
St. Catharines/Niagara community have continued to receive cheques from schools and parishioners, as well as in memoriam donations and through Wills.
Use e-transfer or paypal.
ONRC would like to form a Fundraising Committee. Should you be interested in being on this Committee, please email
linda@ssvp.on.ca
.
Questions have been received on what Conferences are planning for their Christmas program this year. Some Conferences are providing store gift cards (such as Walmart) for parents to purchase gifts for their children, along with food gift cards to purchase food. Please email your Christmas program ideas to
linda@ssvp.on.ca
to be shared in a future communication.
NORTH OF 60
Autumn News
North of 60 update
.
SOCIAL JUSTICE
A couple of good news stories,
Ozanam Fund success story
and
thank you note
related to Ozanam Education funds granted.
Please consider signing the
petition to end homelessness
.
NATIONAL COUNCIL
September Vincenpaul newsletter can be found at:
English
French
Revised National rule can now be found online:
Rule and Statutes
Règle et statuts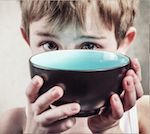 WORLD DAY OF THE POOR
The fourth World Day of the Poor is on November 15, 2020. This year's theme is "Stretch forth your hand to the poor". National Council has developed
English materials
and
French materials
to be used.
Engage your parish priest as soon as possible in the hopes that you will be able to do a collection on that Sunday for the Society and perhaps organize a talk or something to raise awareness of those living in poverty and how the Society helps. Engage your SSVP stores to raise awareness of the fourth World Day of the Poor.
INTERNATIONAL
The Council General Celebrates
4 years in Office
.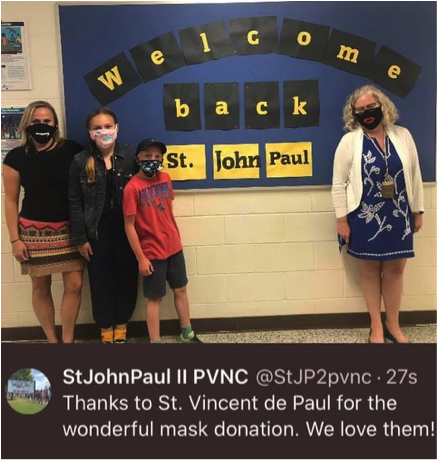 BEST PRACTICES
St. Mary's Conference in Lindsay donated 100 masks each in various sizes to three parish elementary schools. They were much appreciated as students may soil or damage theirs or even forget to bring one to school.
Pictured are teacher, Ellen Storey, and students, Addison and Benson Storey, and principal, Tammy Rutter, from St. John Paul II Catholic Elementary School.
Thank you for your dedication and commitment and all the amazing work you continue to do serving our friends in need. Stay safe and healthy.
Feel free to contact
linda@ssvp.on.ca
at any time should you have questions.
Linda Dollard, President