Society of Saint Vincent de Paul
Ontario Regional Council
BN 876642703 RR 0001
38-1502 Warbler Woods Walk, London, ON N6K 0A7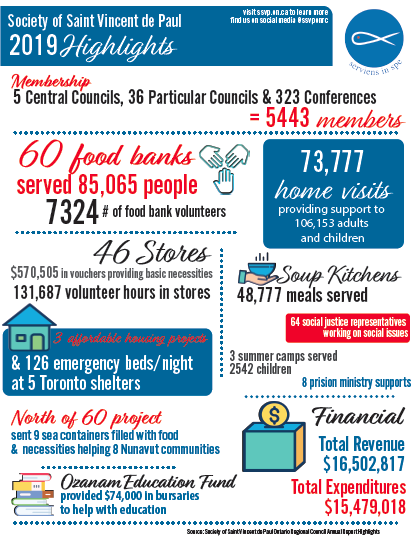 April 20, 2020
We would like to share some highlights from this year's Annual Reporting process.
Membership
The Ontario Regional Council has 5,443 reported members throughout its 5 Central Councils, 36 Particular Councils, and 323 Conferences. One-hundred ninety-one (191) Spiritual Advisors were also reported. If your conference/council does not currently have a Spiritual Advisory, we would encourage you to find one.
Visits
Collectively we have conducted 73,777 visits, serving 61,519 adults and 44,634 children.
Prison Ministry
There were only eight reports of prison ministry supporting 3114 inmates, as well as supporting 113 upon release – a considerable increase from previous years.
Stores
We had 27 reporting stores (out of 46 stores), which provided a minimum of 11,332 vouchers worth $570,505. The stores have 113 full time and 97 part-time employees and an estimated 131,687 volunteer hours from 502 volunteers. This figures are down from last year, however this could be attributed to a decrease in reporting on the stores information.
Soup Kitchens
The vast majority of the 24 reported soup kitchens appear to be volunteer run. They served 48,777 meals helping 37,728 individuals (up from last year).
Food Banks
60 reported Food Banks serving 85,065 people – a big drop from the 136,756 assisted last year. Staffing, however, has increased from last year with three full time staff and 39 part time staff being reported, as well as 7324 volunteers serving a collective 111,497 hours.
Shelters
We have 5 reported emergency/temporary shelters operating in Toronto, offering 126 beds per night, as well as Marillac Place providing shelter and support for young unwed mothers. Sault Ste Marie also operates a homeless men's shelter under St. Vincent Place, although it was not included in the report. If you operate a shelter or temporary housing program and did not report it, please let us know.
Affordable Housing
We had 3 affordable housing projects (totalling 18 units) reported from Toronto to help those with developmental disabilities. Toronto also has one home for mental health recovery; one home for pre-treatment (11 beds) and 13 homes for post-treatment addiction recovery (68 beds). These units are partnered with Toronto Community Housing Corporation, Ministry of Community and Social Services, Ministry of Health, and Mainstay Housing. If you offer affordable housing units and did not report it, please let us know.
Summer Camps
There are three summer camps operating in Ontario: Marygrove Camp, a girl's camp, located near Penetang/Georgian Bay; Camp Ozanam, a boy's camp, located near South River; and Camp Vincent, for boys and girls, located near Bothwell. These camps served 2542 children.
Other Programs
Some of the other programs offered in various communities include: bagged lunches, BBQs, and other special meals; Breakfast programs; Christmas hampers (food, toys, and gift cards); clothing, coat distribution; community gardens; emergency funds to assist with rent, utilities, prescriptions, dentures/dental emergencies, baby items, etc.; employment and resume assistance programs; Good Food Box distribution; hotline for connecting persons in need to services; hampers for young mothers; recycling and e-waste collections; transportation to church, medical appointments, grocery shopping (or deliveries for shut-ins). There are also a number of Conferences/Councils who reported working with local elementary and high schools for various clothing/food drives, assisting students with supplies or milk/snack/food programs, teaching the rosary, etc.
Some of the larger projects are Ozanam Education Fund, Vinnie's Wallet, the RESP/Seeds of Hope project, and, of course, the North of 60 Project. We had 41 reports of Conferences/Councils engaged with the North of 60 project.
Social Justice
There were 64 reported social justice representatives in this year's report, which is slightly down from last year. Also, 20 Conferences/Councils reported being engaged with community initiatives for poverty reduction.
Financial
The total revenue for the year was $16,502,817. The total expenditure was $15,479,018.
Thank you to all who worked on and filed the 2019 Annual Report.
Peace and Blessings,
Linda Dollard
ONRC President
sd