Dear Brothers and Sisters,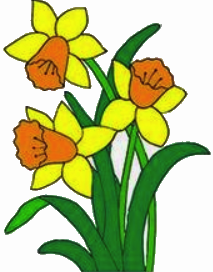 Conference Presidents, please share this monthly news with your members to keep everyone connected with what is happening at all levels of the Society. Particular and Central Council Presidents, please share this monthly news with your Vincentian members who may not belong to a Conference, and feel free to email questions or comments to
linda@ssvp.on.ca
.
SPIRITUAL MATTERS
The
March spiritual reflection
gives us an opportunity to think about "What am I giving for Lent". Contact
denise@ssvp.on.ca
should you have questions on spiritual resources.
ANNUAL REPORTS
Please complete
annual reports
, both financial and statistical reports, by the due dates noted below and pass up to the next higher Council. Please contact
terry@ssvp.on.ca
should you have questions on the financial report and contact
sarah@ssvp.on.ca
with questions on the statistical report. When annual reports are ready to be submitted to Ontario Regional Councils, please submit to
annualreports@ssvp.on.ca
.
Conference Reports were due by January 30 so all Conferences should now have submitted to next level.
Particular Council Reports were due to Central Council or ONRC by February 20 so all PC Reports should now have been submitted to the next level.
Central Council Reports are due to ONRC by March 10.
Regional Council Reports are due to National by March 31.
It is very important that you complete your annual report so we have proper statistics when advocating for persons in need and when requesting donations from Foundations and organizations.
ONRC SPRING MEETING
Be sure to
register for the ONRC spring meeting
taking place April 17/18 in Waterloo. The
agenda and workshops
will provide excellent information for you to take back to your Conferences and Councils. This meeting is for all Vincentians and store managers, and is a great opportunity to network with other members from across Ontario.
There is a Social Justice meeting on Friday afternoon from 2:45 – 5:00 pm and we would love to see all Social Justice representatives, Presidents and anyone wanting to learn more about Social Justice at the meeting.
The meeting will be held at St. Michael's Parish, 80 University Avenue, Waterloo (please note this correct address as the incorrect address was provided in last month's communication). Hotel rooms can be booked at Inn of Waterloo, 475 King Street North, Waterloo, Tel: 519 804 1130; please reference ssvp2020 when you call to book your room.
NORTH OF 60
Father Daniel and youth from Whale Cov
e made a surprise visit to Southwestern Ontario.
SOCIAL JUSTICE
From change.org, learn more about "
Give Prisoners access to free phones
" and what we can do.
NATIONAL COUNCIL
The
February Vincenpaul-Canada
newsletter is dedicated to Social Justice.
National Council President, Claude Bedard, shares a letter (
English
and
French
) regarding the Annual National Formation taking place in Calgary June 25 – 27, 2020.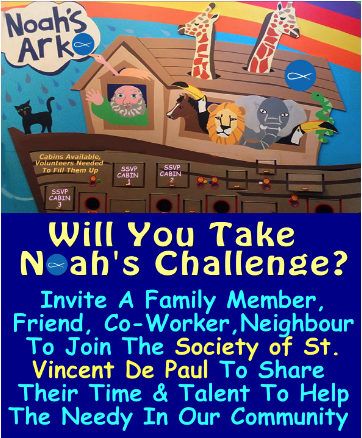 Noah's Challenge – Hamilton Rejuvenation Committee suggests that every member invites one person into service which will double the number of members
BEST PRACTICES
The Best Practices section on the website shares information received from Conferences/Councils on projects carried out that can be replicated in other communities.
Christmas Hampers - Reinvented and Improved
at St. John the Divine Conference, London
Should your Conference or Council have an activity/project to share, please email
phil@ssvp.on.ca
.
Feel free to contact
linda@ssvp.on.ca
or
sarah@ssvp.on.ca
at any time should you have questions.
Thank you for all the amazing work our 5,000 members across Ontario do serving our friends in need.
Linda Dollard, President