Suddenly, without warning, Jesus stood before them and said, "Peace!"
The women came up and embraced his feet and did him homage.
At this Jesus said to them, "Do not be afraid!

Go and carry the news to my brothers that they are to go to Galilee, where they will see me."
Matthew 28:9,10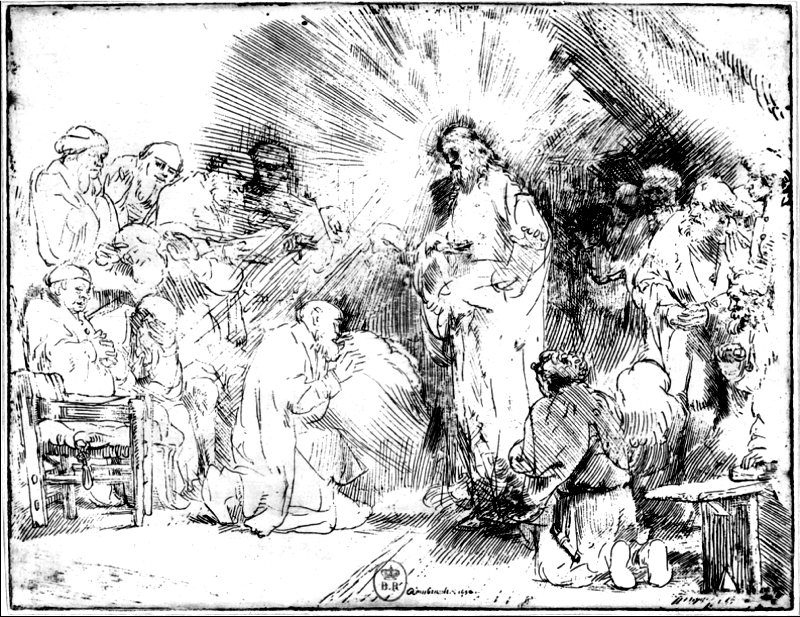 "Christ appearing to the Disciples" Etching by Rembrandt
This is being written during Holy Week 2018, as I prepare for the celebration that is Easter. Regular readers will know that these reflections are published on the first day of each month and this year Easter Sunday falls on April 1. That means that by the time most people read this, we will have prayed through Holy Week and the Triduum and loudly proclaimed our Easter Alleluias.
I confess that, in addition to the solemn and joyous events culminating at Easter mass, my personal Easter will have rich foods (including chocolate eggs and Peeps, of course!) and fun times with family. We will be in our own comfort zone, secure and happy.
And then?
After his resurrection, the first people that Jesus revealed himself to were the women. Those women were the ones who stayed. They watched and prayed as Jesus died. His closest friends, the men who had lived with him, travelled with him and learned from him every day during his ministry simply ran away and hid. Those women were strong and brave and full of love. They also lived as second class citizens in their patriarchal society. The women, the lepers, the sick and the destitute: all these were the poor and all were beloved by Jesus.
So Jesus gave those women the message for his brothers who ran away. "
Go and carry the news to my brothers that they are to go to Galilee, where they will see me
."
It must have been a great relief for the men to be told that they should go back home. Jerusalem was the big city where, as Galileans, they were looked down upon for being country bumpkins. Now, after the horrific things that had happened to Jesus, I'll bet they were anxious to get back to their home towns, their families and their friends.
It's always a good time for us to 'Go to Galilee'. As Vincentians, we serve where we live, in our hometowns. Our primary work is visiting people in their own homes, in our own communities. Where our towns or cities have jails or prisons, we visit in our prison ministries. Where there are homeless people, we offer outreach and meet them where they are. When we meet our sisters and brothers, Jesus message reaches its conclusion.
I go to my own Galilee, a small town in southern Ontario, and I ask God: How can I find you, Lord, in those who need me? How can I better serve you? Help me see you in the faces of those I encounter.
Alleluia! He is risen!
Denise