WORDS
"A good man (woman) produces good from his store of goodness;
an evil man (woman) produces evil from his evil store.
I assure you, on judgement day people will be held accountable for every unguarded word they speak.
By your words you will be acquitted, and by your words you will be condemned."
Matt. 12: 35-37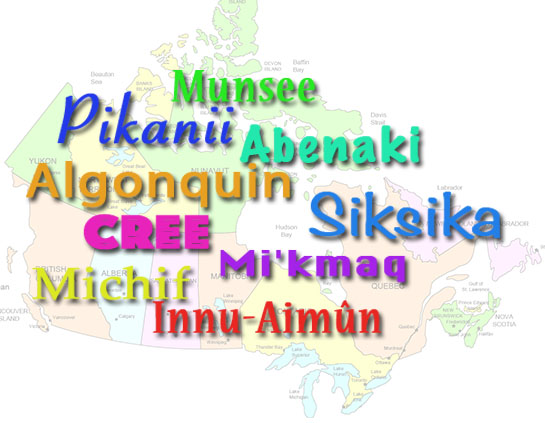 Major Canadian Indigenous Languages
In Matthew's gospel Jesus speaks these words to people who believed that they were good people, holy people. Perhaps Jesus is speaking the same words to us.
During the federal election campaign in Canada this past fall, we heard and read negative statements made about politicians and about voters too. Most of the campaign rhetoric was decent and well thought out, but not all was. The worst comments were often made in social media. I finally had to stop reading comments because of the rude and vulgar words I saw in print.
More recently anti-immigrant sentiments have been in the news and in social media, especially since Don Cherry's dismissal because of his on-air statements.
As a follower of Christ and as a Vincentian I have an obligation to work for social justice and to speak out whenever I see injustices. I am also obliged to speak the truth with decency and kindness. If I hope to change the world I can only do so by not being unkind or cruel. I know I will be judged by my words.
Another 'wordy' topic:
The United Nations has declared 2019 as The Year of Indigenous Languages and the many and diverse languages of the Indigenous peoples of Canada are the focus for this year's National Day of Prayer in Solidarity with Indigenous People. There is so much to learn about our Indigenous languages! For a start, take a look at
www.ourladyofguadalupecircle.ca
Our Society is a member of the Our Lady of Guadalupe Circle and our conferences and councils are encouraged to mark the Feast of Our Lady of Guadalupe and the National Day of Prayer in Solidarity with Indigenous People on December 12. There is a brief prayer service in the Handbook for Spiritual Advisors. (If your conference doesn't have a copy of the book yet, email me at
denisebondy@ssvp.on.ca
and I will send you this prayer service.)
Our prayers are words spoken and unspoken. Perhaps if we used our prayer words as tools for reconciliation and healing we will transform our communities and our world.
May God guide our hearts, our hands and our voices.
Denise