CATHOLIC SOCIAL TEACHING, VINCENTIAN EXAMPLES AND THE IMPLICATION FOR US TODAY
Introduction: (Denise)
Welcome, everyone!
The Spirituality Committee decided on this topic a few months ago and I am particularly glad that we did. Just a couple of weeks ago, on September 3/19, FAMVIN's daily email published the weekly message from our President General, Renato Lima de Oliviera, in which he encouraged Vincentians everywhere to study the Social Doctrine of the Church, especially as it has been influenced by Blessed Frederic and how it influences Vincentians today.
From our inception, SSVP supports the rights and dignity of every person. We do not support any political party nor do we bring politics into our meetings. That doesn't mean that Vincentians, or Catholics, are not political people.
Vincentians, indeed all Catholics, have an obligation to look at what the Church teaches us and to follow the those teachings and the examples of our predecessors as we seek answers from those who would represent us at the local, provincial and federal levels. We need to act according to the principles of social justice for all people.
Pope Francis gave this advice on elections:
"Study the proposals well, pray and choose in conscience."
PART 1: VINCENTIANS WHO CHOSE TO ACT IN CONSCIENCE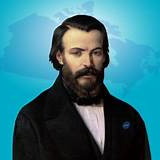 Deacon Gord)
(Blessed Frederic (1813-1853)
was a very political person. He wrote and lectured on issues of his day in light of faith and the teachings of the Church. He even ran for election. Although he insisted that politics not be brought into the conferences, he certainly encouraged active participation in elections and in questioning those who would govern. He also wrote at length and we can see these writings as they are shared in books and online. Bl Frederic clearly enunciated his support for those in need, for workers, the elderly, education, etc. Conservatives called him a radical. Radicals distrusted him because he remained faithful to the Church in spite of its unpopularity. He became a Christian Democrat, enunciating that the common good was essential to his vision: "
The sacrifice of each for the advantage of all: that is the Christian republic of the Primitive Church of Jerusalem. It is also perhaps that at the end of all time, the last and highest state to which humanity can aspire.
"
One of Bl Frederic's most interesting ideas was THE NATURAL WAGE:
"Salary is the price of work; all pain merits salary."
He insisted that wages must be proportionate to profit.
He advocated the workers' right to form unions. He believed that greater workers' rights to decent wages and to organize were "legitimate, affirmative" and would help to alleviate poverty.
NATURAL WAGE is not minimum wage. Minimum wage is pegged to a subsistence level and is much less than what workers need to rise above the poverty level.
NATURAL WAGE MEANS: The worker is by nature entitled, at a minimum, to a wage sufficient to provide for the necessities of life, the education of children and the support of old age.
NATURAL WAGE includes provision for retirement which Bl Frederic termed "sacred property".
Bl Frederic died before Pope Leo XIII's Encyclical RERUM NOVARUM (1891), but his ideas were probably foundational to it. Blessed Giuseppe Toniolo, professor of political economy at the University of Paris and an active Vincentian became the leading Italian authority of his day on Catholic Social Teaching and was consulted by Pope Leo XIII as he wrote the encyclical. RERUM NOVARUM has been affirmed by almost every pope; its 40th and 50th anniversaries were commemorated with additional encyclicals. Blessed Giuseppe wrote, "We all have a duty to do more."
(Denise)
Blessed Rosalie Rendu (1876-1856)
was a young child during the French Revolution when her family sheltered priests, at great personal risk. When she became a sister, a member of the Daughters of Charity, Rosalie served everyone who needed her help. While she lived among the poorest in Paris, she befriended both rich and poor, encouraging her friends with financial resources to assist her large number of initiatives. During the uprisings in 1830 and 1848, Sister Rosalie climbed over the barricades to care for the injured and dying with no concern for which side they were fighting for or against. (Her office was just a few blocks from the barricades described in Les Miserables.) She stated:
"
I am a Daughter of Charity. I have no flag. I come to the assistance of those in distress wherever I meet them.
" Her tombstone is inscribed: TO SISTER ROSALIE, FROM HER GRATEFUL FRIENDS, THE RICH AND THE POOR.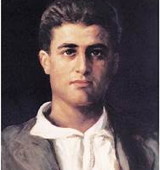 (Deacon John)
Blessed Pier Giorgio Frassati (1901-1925)
has received some publicity lately as a model for Vincentian Youth. His family was well off; he attended good schools and was never without anything he needed. Yet he was inspired from a very early age to care for the poor. Pier Giorgio joined SSVP in 1918, when he was a student. There are many stories of Pier Giorgio's generosity to those in need:
As a child, he gave away his own shoes to the child of a woman who was begging because that boy was bare foot.
He sometimes came home without a coat because he had given his away. At graduation his father offered him a choice of either a car or money. He chose the cash and then gave the money to the poor.
As an adult Pier Giorgio stated, "
Charity is not enough, we need social reform.
" We don't know how much Blessed Pier Giorgio would have accomplished if he hadn't died at the age of 25 from polio which he probably contracted while visiting the sick and poor. While he was dying he wrote a note to his SSVP friend regarding the visits they made on Fridays. The family was surprised at the thousands of people who lined the streets on the day of Bl Pier Giorgio's funeral.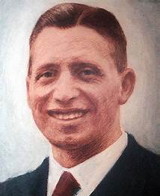 (Deacon Gord)
Blessed Joseph Mayr-Nusser (1910-1945)
joined SSVP in 1922 and became president of his conference in 1937. He wrote to members about doing home visits: "
When a brother is going to visit a poor family, you should do everything to organize your time so that you can spend at least 10 – 15 minutes to visit people.
"
Bl Joseph became a member of an anti-Nazi group and later was conscripted to serve in an SS unit but refused to take an oath to Hitler saying, "
I cannot take an oath to Hitler in the name of God. I cannot do I because my faith and conscience will not allow it.
" For this he was tried, convicted and sentenced to death by firing squad, for treason. He became ill with dysentery and died, en route to Dachau concentration camp where the execution was to take place. When his body was found he had both a bible and a rosary with him.
(
AN ASIDE: Dachau housed 2,700 clergy, roughly 95% were Catholic priests from Poland and many of them were used in medical experiments
.)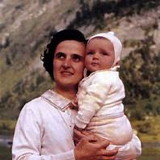 (Deacon John)
Saint Gianna Beretta Molla (1922-1962)
became a member of SSVP when she was a university student. She became a medical doctor and a surgeon who gave special attention to mother, babies, the elderly and the poor. St Gianna married Pietro Molla in 1955 and gave birth in 1956, 1957, 1959 and 1962. During her last pregnancy a fibroma was discovered in her uterus. She was given options: abortion or complete hysterectomy or surgery to remove only the tumor. She chose to remove the tumor, the only option that would allow her unborn child to live, and she went back to her medical practice for the rest of her pregnancy. When she went into labour and a Caesarean section was imminent, Gianna stated that she knew that a choice might have to be made and that, if it was between her life and the child, the child's life must be saved. Her daughter was born and a week later Gianna died, at home, of septic peritonitis.
St Gianna is patron saint of mothers, pre-born children and physicians.
PART 2: HOW CAN I CHOOSE WELL?
(Denise ) Tree of Social Teaching:
Roots are Scripture – Grounded support & nourishment
Trunk is Documents of the Church – Educate and clarify while supporting
Branches are the Principles of Social Teaching
Leaves are the Issues of Today
Which of the issues are you most concerned with? Why? (Add leaves to tree)
How can we become better informed? Where can we look?
What can/should we be asking of those who would govern?
CONCLUSION
First of all, I urge that petitions, prayers, intercessions and thanksgiving be offered for all, especially for kings and those in authority, that we may be able to lead undisturbed and tranquil lives in perfect piety and dignity. Prayer of this kind is good and God our saviour is pleased with it. I Timothy 2: 1-3
We remember Pope Francis' advice: Study the proposals well, pray and choose in conscience.