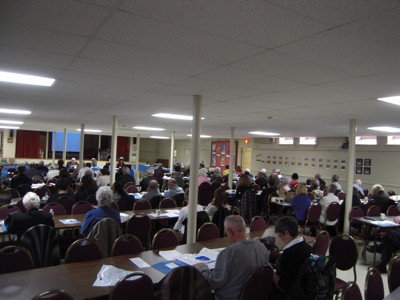 2020 Systemic Change Committee Annual Report
Committee Name:
Systemic Change Committee
Committee Chair:
Jere Hartnett
Committee Members:
Alan Read,
Jim Ferguson,
Margaret LaFontaine,
Garth Brown,
Maria Scattalon
Systemic Change Committee Focus:
(
Institutionalize Systemic Change/Social Justice within ONRC
) Our Systemic Change (SC) work focuses on identifying barriers for those in need and working with them to remove the barriers helping them to get out of poverty. Our work includes education on bringing about SC, SC project assistance, providing SC resource synergy by networking and sharing ideas and best practice with other Vincentians.
2020 Accomplishments:
Ozanam Education Fund:
2020 was a difficult year for students planning to attend post secondary education. The pandemic presented many obstacles. We responded to 21 new applications with funding of $50,840. Since establishing the Fund, we have responded to 274 applications with awards exceeding $514,000. This has made a significant difference in many people's lives helping them get an education and a way out of poverty. We have recently implemented the tax receipt process for issuing T4s for Ozanam Fund recipients starting with the 2019 tax year. We have also expanded the membership on the Ozanam team.
Seeds of Hope:
The Seeds of Hope project continues providing hope for future education for children in need. Hundreds have now been enrolled in this program.
Prison Release Kit project:
This project led by St. Paul's Conference Burlington was launched in late 2017. It provides a kit with basic essentials that is issued to prisoners at the point of returning to the community. The project is now well established and able to sustain itself financially. During the Covid year, the project delivered 140 men's kits and 17 women's kits. The project has distributed over 450 kits in total.
New project investigations:
Unfortunately, due to the pandemic in 2020 we were not able to proceed with any new project investigations.
Opportunities to focus on for 2021:
Systemic Change Orientation sessions:
We continue to offer our assistance to Conferences and Councils for orientation sessions on Systemic Change sharing best practices and ideas for SC work in their area.
Systemic Change Projects:
We continue to promote the expansion or replication of existing projects, such as the Ozanam Education Fund, Seeds of Hope, Vinnie's Wallet, Prison Release Kit, etc. We also encourage bringing forward ideas for new projects that will bring about positive change for those we serve.
Challenges that we encountered in the past year:
The pandemic and its restrictions were our biggest challenge in 2020.
Need for awareness and growth of Systemic Change work in each Conference and Council.
Need for better communication linkages with other Vincentians involved with Systemic Change work across the region.
Overcoming the challenges in the coming year:
Look for better ways to communicate including Zoom links.
Continue to look for better ways to network on Systemic Change activities within the ONRC organization.
Continue to look for ways to engage new Vincentians in SC/SJ activities.
Financial Information:
The 2021 budget for Systemic Change project assistance is $2,000, and the amount available for the Ozanam Education Fund is $63,000.
Submitted by:
Jere Hartnett
Chair, ONRC Systemic Change Committee
systemicchange@ssvp.on.ca
---
---
---