Catholic Social Teaching and Today's Vincentians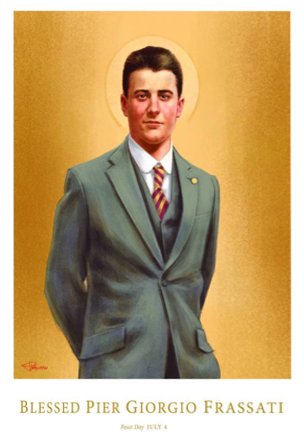 Painting by Chris Pelicano
Pier Giorgio Frassati lived in the early part of the 20th century. He lived in Turin in Northern Italy. He was a man who had a strong prayer life. He was taught scripture verses by his mother. His faith developed and felt a personal relationship with God. Through this relationship he learned that God loved the little ones.

He developed a great love for the Eucharist. From the time he was 12 years old until his death at 24, he received communion everyday. At the age of 17, he joined the Society of St Vincent de Paul. He committed his life to serving the poor. He was also someone who took his catholic social teaching that he learned while growing up and put it into practice. He became a member of a group called "Catholic Action". He is known as the "man of the beatitudes".

He was born into an affluent family. His father was an agnostic and his mother was an artist. His father ran a newspaper, "La Stampa". His father wanted him to work in the newspaper but he chose to be an engineer. But he wasn't absorbed in that culture. His life was marked by an extraordinary charity.

One time his father bought him first class train tickets for a trip he was going on. He turned around and traded in the first-class ticket for a third-class ticket. Then he would give the rest of the money to the poor. His father Alfredo had to continually buy his son new clothes. You see, Pier Giorgio would "lose them" to the poor. He was described as a fun-loving troublemaker but he also performed many acts of service and charity. He liked to play practical jokes.

He was a bit of a social justice warrior. He said "Charity is not enough; we need social reform". He was an avid outdoorsman and enjoyed hiking, swimming, and mountain climbing. He cared for the environment. He loved the poor and the vulnerable.

He was inspired particularly the first letter of St Paul to the Corinthians. He kept it on a small piece of paper in his pocket. He called it the "Hymn of Charity". Here is a small part of it.
"If I speak in human and angelic tongues but do not have love, I am a resounding gong or a clashing cymbal. Love is patient, love is kind. It bears all things, believes all things, hopes all things, endures all things."

Pier Giorgio became ill and died of polio at the age of 24. It is believed he contacted it while helping the poor in his town. Huge crowds attended his funeral; the elite as well as workers and the homeless. It is said that this outpouring of love towards him even brought his father back to the church.

Those, who, like us, dedicate their lives to serving the people of God through acts of charity and social reform can see Pier Giorgio Frassati as their patron saint. He was declared blessed in 1990.
Blessed Pier Giorgio Frassati pray for us. What can you learn from his life that you can apply to yours?
Deacon John Girolami