Society of Saint Vincent de Paul
Ontario Regional Council
BN 876642703 RR 0001
38-1502 Warbler Woods Walk, London, ON N6K 0A7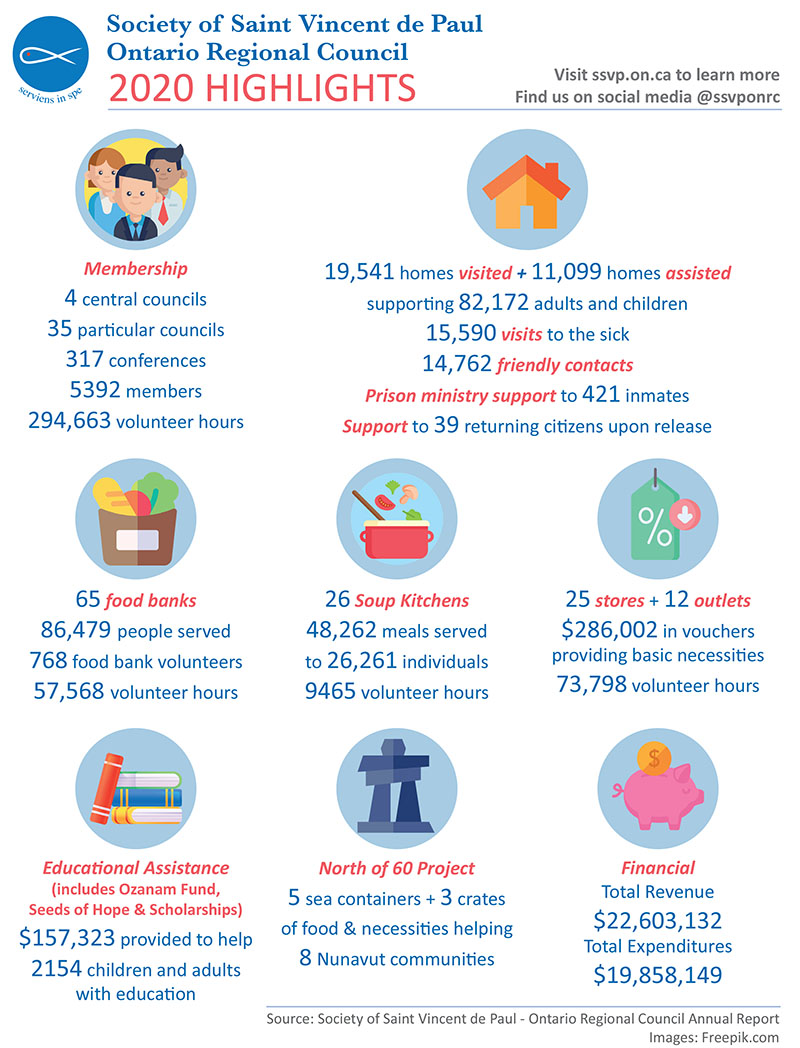 2020 Annual Report Summary
We would like to share some highlights from the 2020 Annual Reports received.
Membership
The Ontario Regional Council has 5,392 reported members throughout its 4 Central Councils, 35 Particular Councils, and 317 Conferences. 177 Spiritual Advisors were also reported. If your conference/council does not currently have a Spiritual Advisory, we would encourage you to find one.
Visits
Collectively we have conducted 19,541 visits + 11,099 homes assisted other than through home visits (which number is down from the year before due to covid-19). The homes were helped 51,800 times, serving 49,766 adults and 32,406 children. There were 15,590 visits made to the sick, and 14,762 friendly contacts made with persons.
Prison Ministry
There were only eight reports of prison ministry supporting 421 inmates, as well as supporting 39 returning citizens upon release.
Stores
We had 25 reporting stores plus 12 outlets, which provided a minimum of 5,525 vouchers worth $286,002. The stores have 77 full time and 87 part-time employees, and an estimated 73,798 volunteer hours from 571 volunteers.
Soup Kitchens
The vast majority of the 26 reported soup kitchens appear to be volunteer run with 292 volunteers and 1 full time employee. They served 48,262 meals helping 26,261 individuals.
Food Banks
We had 65 reported Food Banks serving 86,479 people with 2 full time staff and 3 part time staff being reported, as well as 768 volunteers serving a collective 57,568 hours.
Shelters
We have 8 reported emergency/temporary shelters, as well as Marillac Place in Kitchener providing shelter and support for young unwed mothers. Sault Ste Marie operates a homeless men's shelter under St. Vincent Place, and Barrie Community Home is a home for men discharged from an addiction treatment center; although these 2 were not included in the report. If you operate a shelter or temporary housing program and did not report it, please let us know.
Educational Assistance through Ozanam Education Fund, Seeds of Hope and Scholarships
2,154 children and adults were assisted with $157,323 being disbursed.
North of 60 Project
49 Conferences/Councils reported being engaged with the North of 60 project sending 5 sea containers + 3 crates of feed and necessities helping 8 Nunavut communities.
Other Programs
Some of the other programs offered in various communities include:
Christmas programs
Provide refurbished computers
Prepare and provide healthy meals and bagged lunches
Assistance to migrant workers & international students
Emergency funds to assist with rent, utilities, medical expenses/medication, dental care and gas for vehicle
Street outreach program providing coats, shoes and boots
Warm Woolies program providing hats, mitts and neck coverings to schools to distribute
Free tax clinic
Emergency response hotline connecting persons in need to services
School outreach providing school uniforms, supporting schools, and providing opportunities for students to do community service at SSVP store
Senior home outreach
Provide clothing to detention center for inmates to have clothing to wear to court, wear home and on job interviews
Partnership with John Howard Society providing community service hours
Partnership with YMCA and Salvation Army
Community outreach
Transportation to Mass and grocery store
Social Justice
There were 76 reported social justice representatives in this year's report. Also, 27 Conferences/Councils reported being engaged with community initiatives for poverty reduction.
Financial
The total revenue for the year was $22,603,132. The total expenditure was $19,858,149.
Thank you to all who worked on and filed the 2020 Annual Report.
Peace and Blessings,
Linda Dollard ONRC President